When you use provisions on the web for applications running through consumption and computation of resources, then you are actually using cloud computing services. It consists of the following,
Storage
Utility based applications
Virtual machines or VM s
We are making python cloud computing projects since python is emerging in cloud computing recently. The major merit of using python is its ability to allow deployment of services irrespective of platforms used. You can execute python in cloud. It is a huge advantage associated with python.
In the following section let us have complete understanding on using python for cloud computing projects. You may have a doubt if python can be used in cloud computing projects. Let us clear the doubt first.
CAN WE USE PYTHON IN CLOUD?
We have been working with python for 10 years. With our huge expertise we will answer you the question. But before attempting to answer the question of using python in cloud, we need to make you aware of the tasks that can be done using python about which we have below.
Back up, storage and data recovery
Demand based Software delivery
Video and audio streaming
Developing of novel services and applications
Website and blog hosting
Data analytics
Yes, python can do these activities efficiently that too in a faster way. Thus python can be used efficiently for cloud computing. As the cloud can have any type of data like video, image, audio, document etc., it should be able to deal with all data types.
We have about 300+ python cloud computing projects successfully delivered. Python is really a great programming language that is renowned for its following features.
Fast data delivery
Fast cycle for deployment
Integrated databases
Easy to understand
Readily available production stacks
Thus python has been the obvious choice for openstack and other cloudsim in cloud computing services. Our engineers are very well-qualified and experienced in handling python. Our customers are highly satisfied with our services. Stay with us to know more about python.
HOW PYTHON IS USED IN CLOUD COMPUTING?
Python is exponentially used by developers for the following reasons
Organisation of data
Faster analysis
To stream apps
Our engineers are still developing their skills and are optimally implementing their skill sets. Thus the developers with us are increasing their knowledge every day. We will now explain you about Pi cloud,
PI CLOUD
Integration of python as programming language with AWS computing power leads to Pi cloud. It can be employed for simulation even without an account created in it. For instance, python is used for the following tasks in google cloud,
Cloud logging
Monitoring of cloud
Tracing cloud
Reporting errors in cloud
Help in diagnosing setbacks in performance
Libraries, sample codes and tools essential for the development of applications that are secure as well as reliable are available with us. You can reach out to us for all your project needs.
The execution and analysis of performance are recorded for all the projects that we delivered. You will be given an opportunity to compare the performance of all our projects and you will be provided with all necessary practical explanations by our experts. This shows our transparency and proves our unmatchable ability. Let us now see about creating python cloud computing projects.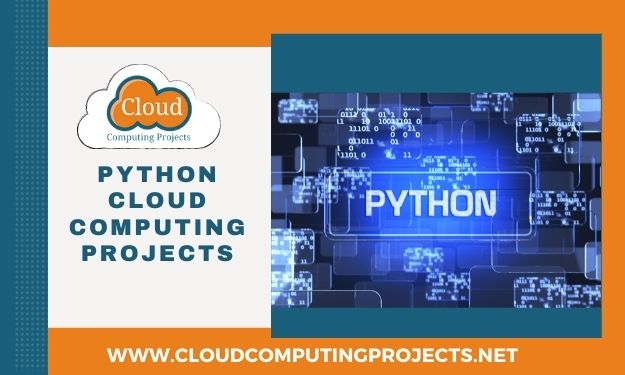 HOW TO CREATE CLOUD APPLICATIONS USING PYTHON?
The configuration varies with different cloud service providers. Some of them are listed below
GCP – The credentials are set as explained in docs
Azure – az account is used for configuration
AWS – boto docs provides for configuring details
Integration of Pi cloud to your code base is done readily when you use python. The function you are favouring is to be passed on to the servers for execution. High performance cluster of the cloud runs the function. If you are quite unaware of these technical terms, then connect with us. Our expert team is ready to clear all your queries. You now need to know more about the configuration setup.
PYTHON CONFIGURATION SETUP
The two main components of the configuration set up for python cloud applications and services are as follow.
Cloud server (Virtual machine)
Python 2.6
Model files
BeoPEST
node_starter.py
cloudPESTclient.py
Desktop machine
Python 2.6
Model files
CloudPEST.py
beoPEST
cloudDriver.py
EC2-Tools
We also help in installations and execution. We provide you all the details for configuration. In fact, we have the necessary operating tools and knowledge which we can transfer to you whenever you need them. Let us now look into some of the projects based on python cloud computing.
CLOUD COMPUTING PROJECTS IN PYTHON
The following are the major python cloud computing projects.
Applications of E-learning
Preventing SQL injection
Implementing cryptographic algorithms (PAD and CHAFF, DH, AES)
Detecting and preventing leakage in data
Security in transfer of information between user and cloud
We are providing you guidance on all these topics. We often encourage people to come up with a topic of their interest. We have our expert team with us who can ensure the successful designing and implementation of projects in any topics. Performance evaluation plays a key role in designing projects in cloud. Following is an idea of methods used for evaluating the performance of projects.
CLOUD COMPUTING PERFORMANCE EVALUATION
The performance of clouds computing projects can be governed on following aspects
Power consumed
Compatibility
Increased performance
The projects delivered by us showed maximum result in these metrics. If you are new to using python, then you shall discuss with our experts about their experience in working with it. They will show you the way to have great and fruitful experience for doing your project. Now let us look into the factors that affect the performance of cloud.
FACTORS AFFECTING CLOUD PERFORMANCE
The following are the major factors that affect the performance of the cloud
Capacity of storage (infrastructure)
Capacity of disk
Availability
Bandwidth of the network
Total number of users
Capacity of the buffer
Tolerance towards faults
The factors like latency, processing power, workload, scalabilty, usability and repetition also affects the cloud performance. The factors that affect cloud performance are also evaluated based on the following
Average time for response per unit time
Total number of input and output commands per second (IOPS)
Capacity of network per second (Mbps)
We are here to solve any issues associated with projects in python cloud computing. You can visit our website and find detailed information of our projects and their feedbacks. Our professionalism has gained us the huge customer base.